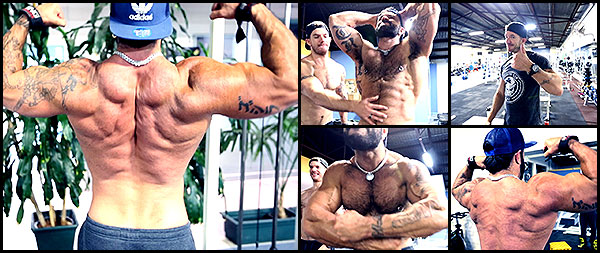 CHIN UPS 30 reps.
I always try to include chin ups in my back routine. I used to smash out 30 reps easily but that was when I was 15kilos lighter. These days I just try to get to 30 reps and use as many sets as it takes me to get there!
SUPER SET BENT OVER V-BAR ROWS and CABLE ROPE PULL DOWNS X 4 sets
BENT OVER V-BAR ROWS to failure.
Unless the handle is fixed to the machine I will always use a V-Bar to perform this exercise. Make sure you bend over, try to have your torso parallel with the floor. It will slightly rise especially when you hit the heavier weights. When you pull the V-Bar up to your stomach fully squeeze your back activating and isolating it, then don't let gravity take the weight down, lower it keeping the tension in your back muscles the entire time. Repeat.
CABLE ROPE PULL DOWNS to failure.
There are many ways to do this exercise. I like using a rope and bending over. By doing so it allows me to get a greater stretch when I raise my arms. Again fully contract your back muscles when you lower your hands down beside your waist and keep the tension as you raise them and fully stretch your lats out at the top of the motion. If you do this exercise properly your back will be on fire half way through the set.
V-BAR PULL DOWNS 4 sets to failure.
The most common mistake I see guys doing when performing any back pull down is leaning or hunching forward to get the weight down rather than keeping their chest elevated, like there's a cable from the middle of your chest pulling it up to the roof. This will isolate your back muscles.
MASSIVE THANKYOU to OASIS Fitness Centre.
www.oasisfitness.com.au