As I just stated in my last porn I didn't watch porn growing up but that doesn't mean I didn't have my actors or characters that weren´t on my wank-bank VHS tape! Yes, we had two VHS players so we could dub the films my dad liked and I used to make a wank-bank tape that I would hide in shame and bring out anytime my parents were out and flog Rogan Jr! (In this case not the python!) So who was on that tape? Here´s 5 guys that used to get my cock blowing its pubescent seed!
Michale Paré
he had a few clips on my tape BUT the one that got the most wear and tear was THIS SCENE!
Billy Writh
wasn't only a Lost Boy but an episode of Red Shoe Diaries had him (AND David Duchovny!) had me putting up my tent pole a bunch of times…
Johnathon Schaech
I was first introduced to Johnathon with his role in Doom Generation. Greg Araki films were very much a sexual awakening for me growing up. I was obsessed with his character in Doom Generation, it´s like I could smell him!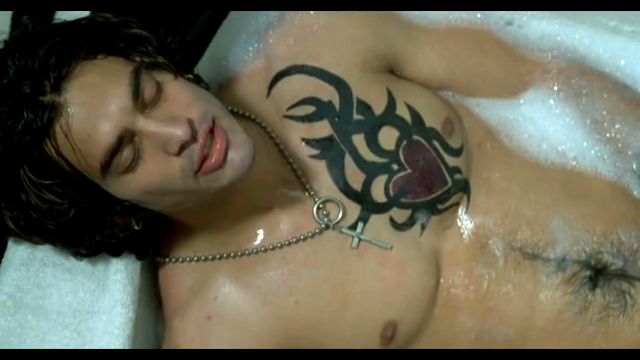 This one may be a cliché, BUT YES Jean Claude Van Damme had many films that I would jack off too. A lot of my loads were spent on action heros fighting other guys topless. I think this is where my aggression and dominance comes from.
The two clips that got worn down are below. I still jack off to that Cyborg fight scene! (The part that usually gets my cock throbbing is at 2.23 minutes.)
TARZAN!
You might be surprised to know He Man didnt effect me sexually at all. That´s not to say I wasn´t flogging off to cartoon or comic characters. I would have wanked off Werewolf by Night more than anything else! When he transformed he would inevitably end up fighting up a jacked up villain who´s top would be torn off they would be topless with the bad guy always being bigger so the werewolf would straddle him and in one pic at least, they would always have their pecs pressed against the others!
but back to Tarzan … he was the first male to wake up my sexual organs! The tv show, cartoon, comics, all of it BUT there was one Tarzan that really made me wanna be a gorilla. (Pause, for dramatical effect. Not because of which Tarzan it was but the origins of my gorilla persona!) The Miles O´Keeffe in Bo Derek, Tarzan the Ape Man film. (You can also find Miles in several topless barbarian roles!) The fight scene at the end (uncannily similar to that of the ones in Werewolf by Night) would get my cock moving around a lot! Unfortunately I cant find this scene in its complete form so have had to post it in sections below…