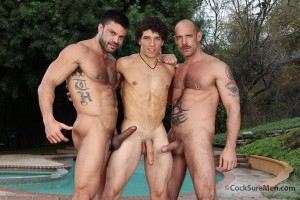 Austin Merrick has just finished cleaning the pool and is about to head inside to take a leak when he stumbles upon Jake Deckard sucking on Rogan Richards fat cock. Jake points Austin to the restroom but Austin makes a beeline towards Rogan's dick instead. WARNING: From this point on it's recommended you view the scene with a lab coat and goggles because the chemistry is explosive! Jake Deckard and Rogan Richards punch and pound each others chest while Austin Merrick goes back and forth sucking their cocks. After getting his hole fingered, Austin begs for Jake and Rogan to fill his tight ass with their thick dicks. They gladly do just that, shoving every last inch of meat deep inside Austin's hole. Jake's ass gets a little envious and wants some attention too. Rogan happily obliges and slams Jake as hard as he can. In the end, Jake Deckard gives Austin a face full of warm cum which he greedily gobbles up. Austin Merrick blows his thick white load onto Jake's furry chest and abs. Rogan Richards begins to pop onto Jake's chest, but then Jake goes in to get a mouthful of his sweet juice.
CLICK HERE for my SCENE with JAKE DECKARD and AUSTIN MERRICK
for MORE Cocksure Men CLICK HERE!