It all started when i decide to join OnlyFans. Why? I didn't need to as I have my own website. But I thought it would be good to have my profile amongst all my peers and provide me with another very broad platform to advertise my web site from AND give me a passive income doing so. WRONG.
I started hearing complaints on twitter from guys not being paid and not having their emails replied too which is when i decided to look into my account and noticed that I hadn't been paid yet. I had only had my account up for several weeks so I wasn't too worried at that point but i did send them an email asking for more clarity on how their payment system works and some other administrational questions about the program. To this date I have not received a reply. After several other attempts I finally received this email.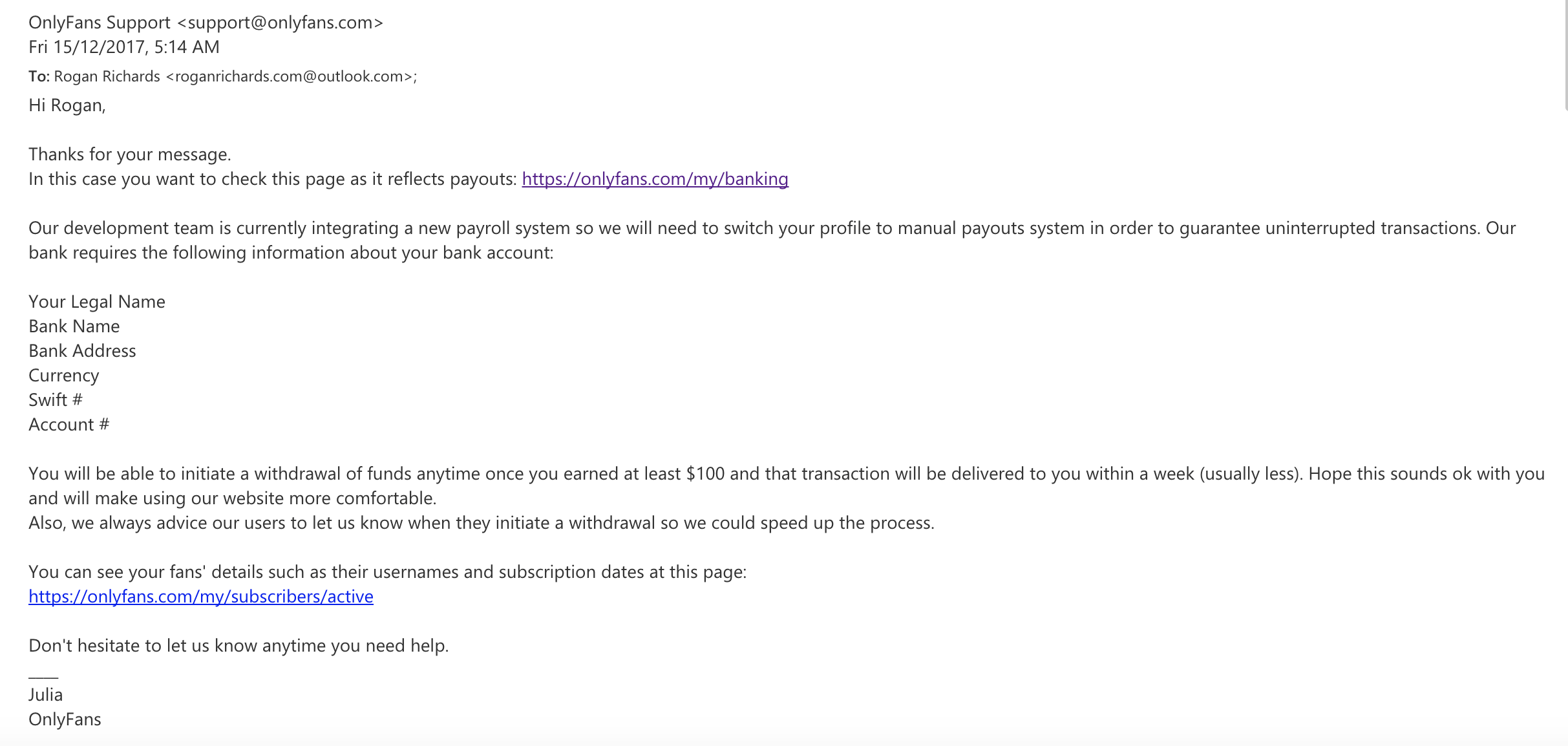 Fine. I gave them this extra information. And… nothing. That email was dated 15th Dec 2017. It is now 23rd Jan 2018 and I have not received any direct answers to my emails or any money. I heard some guys who had been complaining say they had finally been paid 3 months later. Fuck that shit. At this point I just wanted my account deleted as more fans were joining and renewing their memberships and I wasn't posting any new content. But in order to close my account I had to contact support and request it. Yes, I was literally smashing my head against a brick wall. Poor wall.
But of course they were more than prompt to send me this email.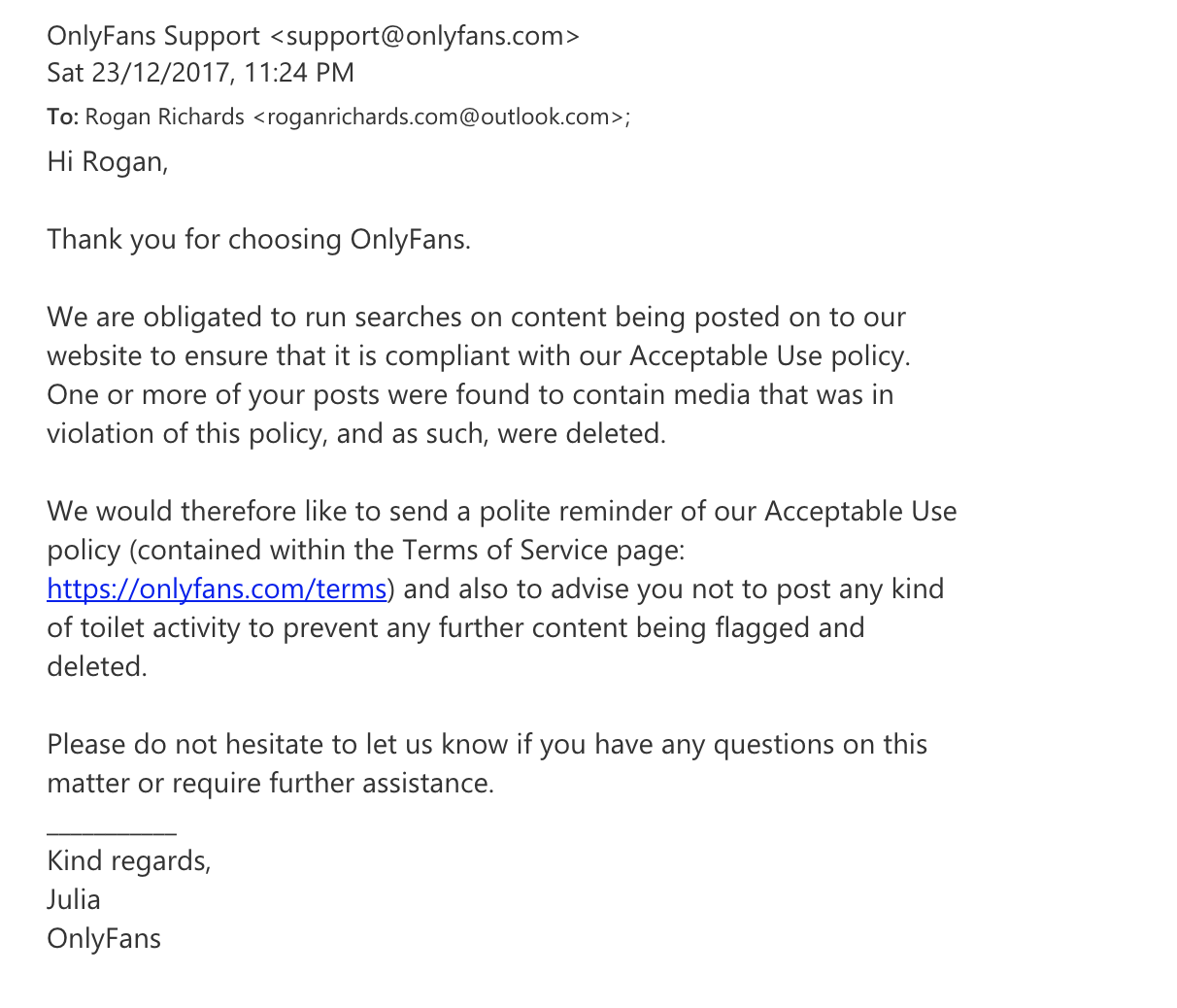 I'm such a naughty boy. What was SO shocking that OnlyFucks had to take it down?!? You had to be there… At the time I apologised for the discretion and reminded them I HADN'T BEEN FKIN PAID and my emails HADN"T BEEN FKIN responded too. I didn't use the F word or bold lettering. To which they sent that initial email I shared with you guys to me again. OK if you know me you know I have a very short tolerance for human stupidity. So now I'm just FKED off.
I applied for my account to be deleted. Twice. Finally I get an email saying that they have disabled any new subscriptions and auto-renewal on my account with a lovely "Feel free to let us know once you need any help." from good 'ol Juliette. To which I replied, "Yes I would very much like some help in getting the money you owe me and that you avoid replying to me about."
Then I get this.

Oh yeah, "great news" just another banking form to fill out cause the one at your site wasn't good enough and the email you sent me (TWICE) with all the additional information you asked for wasn't good enough too I suppose.
So I went to my account and all funds in my statement page are gone.
As of 11th Jan 2018 OnlyFans owes me $1,254.75 of which I have received none and now is taken down from my account.
I'm really happy for those guys out there who are using OnlyFans and being paid as they should be. For any one new who is thinking of joining up you can take this post as a warning at how OnlyFans can or may FUCK u over. And for my fans I'm sorry you were taken for a ride, I have and am still trying to get the money they took from you and I.
IN THE MEANTIME if you are a model who wants to make cash from selling your dirty videos AND get paid for it can I suggest you check out in-charge.net.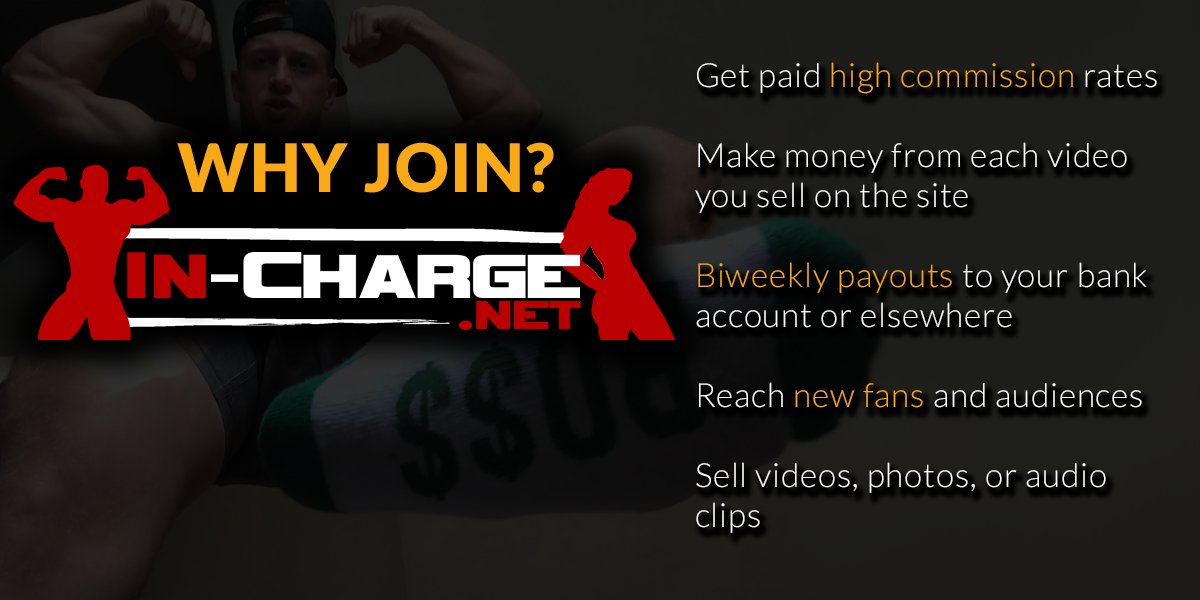 These guys are the KIKASS blokes who made and manage my website! I can 100% vouch for their professionalism. Don't wait Register Here!
So why didn't I just join their site then, well, like i said I didn't need to join OnlyFans I only did it as it was a fad and trending amongst my peers. If I didn't have my own web site and actually wanted to make decent money then FKYEA i would have gone with IN-CHARGE to begin with.
Anyway, it's just an option for you guys…
AND LAST BUT NOT LEAST like the moral at the end of a He Man cartoon episode, the lesson from all this shit is JUST GO JOIN MY FKIN SITE.